The non-profit space in India is complex and highly regulated. Those who want to engage in charitable work often struggle with the best way to go about doing this, and many existing NGOs face issues funding their work, adhering to legal compliances and understanding how best to grow. To help address these questions, iProbono organised a seminar on 'The Legal A to Z for NGOs' with industry experts, Noshir Dadrawala (Centre for Advancement of Philanthropy) and Rajesh Bhattacharjee (Rootbridge) in August 2021. 
The first session "How to Start an NGO" provided insight into setting up an NGO and engaging in charitable work in India. It covered the entities that can be established, the legal and compliance issues that might arise, and alternate approaches to philanthropy.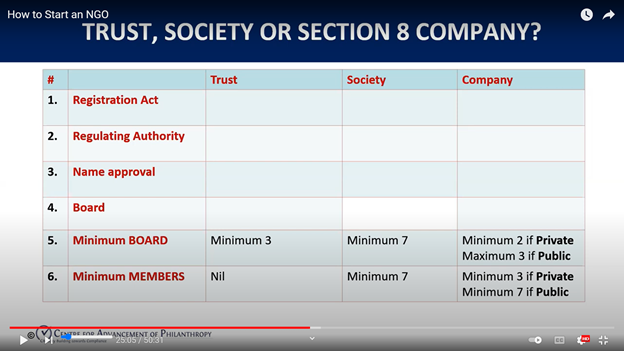 The second session "Legality, Compliance and Fundraising for NGOs" was designed to help NGOs understand how to finance their work, adhere to the laws governing the non-profit sector, and comply with the applicable procedural requirements. It provided an overview of important issues such as tax compliances, Foreign Contribution Regulation Act (FCRA) regulations and fundraising solutions.
Through this seminar, we recognised a growing need for such legal guidance in the social sector community, and it inspired us to develop a handbook for them. The guidelines in this handbook 'Legal A to Z for NGOs' are a combination of primary research and expert opinions of experienced stakeholders. 
For those looking to establish an NGO, this handbook demystifies the terminology associated with charitable organisations, the various registration requirements and the compliances and benefits that each type of organisation may be eligible for. On the other hand, those currently involved in charitable activities get a better understanding of how NGOs might fund their work, and gain the required advice on how to comply with non-profit sector legislations and relevant procedural requirements. 
The handbook is structured to provide relevant information on the different types of non-profit organisations in India i.e. trusts, companies and societies. It explains the established and sustainable methods of fundraising, as well as the types of funding including the differentiation between donations and grants. Under the legality and compliances section, it addresses the various tax exemptions and its prerequisites as well as the FCRA laws with a special focus on the recent amendments. Lastly, it explains the internal policies that an NGO should be aware of. The purpose that this handbook fulfills is that it creates a comprehensive guide covering core issues that any non-profit organisation in India can use to improve their foundational knowledge.

Noshir Dadrawala
Noshir is Programme Director, Legal & CSR Compliance at Centre for Advancement of Philanthropy (CAP). He is one of the sector's foremost consultants on Legal Compliance for nonprofits and Corporate Social Responsibility. He has a very diverse and deep understanding and experience of the law, matched with a practical background of consultations with over 1,000 non-profits over the past 32 years.
Rajesh Bhattacharjee
Rajesh is the Chief Executive Officer at Rootbridge, an organisation that partners with non-profits to provide affordable, quality-driven, and sustainable retail fundraising solutions. He has been a non-profit fundraiser for over two decades, providing fundraising and senior management leadership to top charities like Azim Premji Philanthropic Initiatives (APPI), Amnesty International, Care and Room to Read.
This handbook has been researched and authored by iProbono's Programs Team in India. For any queries, please contact us at communications@i-probono.in.